Find it in Mynewsdesk: Monitor > Search profiles
With Monitor you will be the first to know what's being said and written about your brand, industry or competitor. You can also get a better understanding of the subjects that are relevant to you on different kinds of media platforms. You will learn who your audience is, what they say about you and how they speak about you. Monitor is also good to use to follow your campaigns in real-time and follow up results. To do all this, you first need to set up a search profile. 
On the first page is where you find all your existing search profiles. To the right is the more options menu. Click to see hits from each search profile, edit a profile or delete it. 
Create new search profile
To create a new search profile, click on "Create new search profile". Name your search profile, choose if you want to search for both web sources and social media or only of them and type in your keywords by using the three different fields: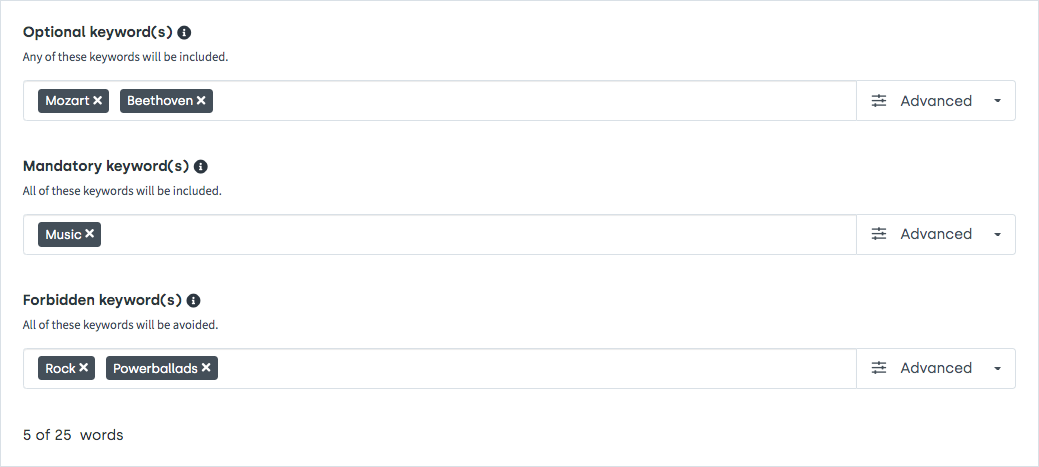 Optional keyword(s) – Use optional keywords to support your mandatory keywords. For example, if you write "Mozart" and "Beethoven" you will get hits where either of those two keywords are found together with the mandatory keyword. 
Mandatory keyword(s) – Type exact keywords to target the articles you are looking for. If you put in the word "Music" you will get hits on articles where this word is included. If you have any optional keyword, you will also get hits where those keywords are found in combination with the mandatory keyword.
Forbidden keyword(s) – If you write a keyword in the forbidden field, all the articles with that specific word will be excluded from your hits. Use this field to refine your search profile even more by putting in words that are not relevant to you. For example: If you include the words "Rock" or "Powerballads" you eliminate all the articles mentioning these words.
Note: If you put an asterisk (*) behind a word, e.g. sun*, you will get hits on all possible suffixes to that word: sunflower, suns, sunbathing, sunny etc.
Advanced – You can activate case sensitive of each field if needed, and also add a proximity between the keywords. Proximity is how close the keywords need to be to each other to be included in the hits. 
Test search – This is a preview of what your article feed will show with the keywords you've added. Use this function to create a search profile that you are happy with before you save. Change one word at a time to see what effect it has here before adding more. Test search will only be visible when creating your profile, not in editing mode.
When you are happy with your search profile in the test search click, "Save". The search profile will start searching right away. Go to Article feed to see the generated hits.