Find it in Mynewsdesk: Publish > Press release > AI generated drafts
Write your press release from scratch or save time and take advantage of our built in AI generating a draft for you. We have mapped out the most common press releases published, and trained AI to secure the right format for your story.
Choose the format that fits your story.
Add the information required (this is an example from the «Newly hired employee»-template) and click Generate.
Watch the AI create your text in a few seconds.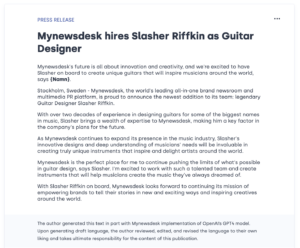 Regenerate a new draft by clicking Give me another suggestion if you want a new version. You can do this several times until you are satisfied with the draft.

You can always go back to a previous suggestion. Choose the draft you want to keep and click Continue to edit to bring the text to the editor.
At this point it is important to proofread and fact check your text. Make your adjustments before following the usual next steps for creating and publishing your press release.
If you want to know more about publishing and distributing your press release, read more here.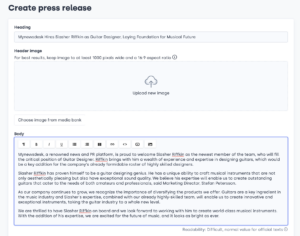 To publish an AI-generated text draft you need to have credits. Read more about our credit system here.
When you are ready to publish your story, you can see the credit that will be used under the Distribution summary. Click Continue to publish.
Confirm the use of credit and publish your content by clicking Publish.