Find it in Mynewsdesk: Publish > Press release > AI generated drafts 
To be able to publish AI-generated drafts you need to use our AI credits.
One credit is equivalent to one published AI-generated text, i.e. one published press release or one scheduled news article. Note that you may retry the text generator or regenerate a draft several times until you are satisfied with the result, without it affecting your credits.
Only when publishing the AI-generated text, credits will be needed.
You can view your remaining credits under press releases, next to the predefined generated drafts. Click on the credits in the top right corner to access the information page.
 This is the same page for purchasing additional credits.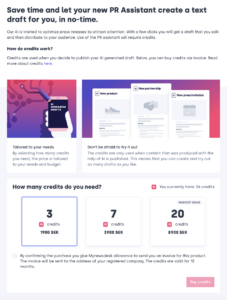 Buying credits is done quickly within the tool
Choose the amount of credits you would like to buy and confirm your choice by ticking the box and click Buy credits.
Confirm your purchase in the pop-up and the credits will instantly be added to your account and an invoice will be sent to you.